Clinic Director
Timothy Long, MDiv
Licensed Marriage and Family Therapist (MFC47459)
Licensed Professional Clinical Counselor (LPCC1152)
National Certified Counselor (718883)

Servant-Hearted Therapy Innovator
Tim Long, LMFT completed both his Master of Divinity and Master of Counseling at Covenant Theological Seminary.  Tim is the director of this clinic in Beverly Hills, CA where he and his staff help couples, individual adults, teenagers, and families through a wide variety of challenges, including marriage or relationship crisis, sexual struggles , addictions, depression, anxiety, obsessive compulsive disorder, and recovery from childhood abuse and neglect.  Tim's counseling style is intensive, affect-focused, and attachment-centered.  His three greatest professional passions are integrating faith with psychotherapy, equipping clergy and religious leaders to minister to the emotionally hurting in their communities, and training young therapists to become excellent and Christ glorifying soul care providers.  Tim's family includes his wife, his daughter and his coffee press.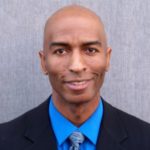 Dion Davis
Marriage and Family Therapist Associate (IMF69634)

A Passionate, Tenacious and Kind Guide
A song writer and guitarist, Dion grew up in Santa Barbara county and completed his Masters of Science in Marriage and Family Therapy at California State University Los Angeles. "My life experiences as a troubled teen and young adult led me to become a therapist. The empathy and compassion I received from my own therapist opened me up to transformative relationship. What changed my life was my experience of Jesus Christ." Dion spends his free time serving the homeless, fixing classic cars and weightlifting.
Rebekah D'Huet
Marriage and Family Therapist Associate (IMF88753)

A Warm, Wise, and Open Heart
Rebekah loves books, nature, and working with the youth at her church. "Deviating from my original plan to become a teacher, I found that I much more enjoyed the opportunity to sit with individuals or small groups and talk about the deeper matters of the heart." Rebekah completed her Masters in Psychology at California Southern University. She shares her free time with her pet bearded dragon.
---
What is an Intern?  An LMFT?  An LPCC?  A Trainee?
CHANGES EFFECTIVE JANUARY 1, 2018: Registered post-graduates will no longer be called "Interns."  The new title is "Associates."  For more information visit the website for the CA Board of Behavioral Sciences:  http://www.bbs.ca.gov.
Often a person not in the psychology world hears that one of our therapists is an intern and he or she is immediately uncomfortable with the competency of that clinician.  The term "Intern" currently has such an unfortunate diminishing connotation attached to it, we thought we could help by explaining how being an intern is a good thing in therapy settings.  This is not a legal or extensive explanation but rather a colloquial explanation so you can seek more specific information if you choose.
When a student decides to begin the process of becoming a clinician with a masters degree, he or she must complete a certain number of courses and then she or he becomes a trainee.  A traineeship is what business people would call a college internship.  It is a "job" where the student is supervised carefully in providing therapy to clients, but receives no compensation.  Trainees are still in school and must log sufficient hours of providing therapy to graduate.
Once that trainee graduates, she or he can apply for a license as an intern.  An intern is a therapist who has completed a Masters Degree, completed a full traineeship and is registered with the state to see clients while continuing training under a licensed clinician.  This means that an intern already has work experience and has selected a licensed clinician as a mentor to continue to grow in her or his skill.  The licensed supervisor works closely with the intern, providing guidance and training so that in a sense, the client gets two therapists for the price of one.
Once the intern has met all the requirements for completing an internship, he or she can apply to take the final exam to become licensed.  Both the LMFT, Licensed Marriage and Family Therapist, and the LPCC, Licensed Professional Clinical Counselor, are Masters degree level licenses which require an internship.  Thus there are MFT Interns and LPCC Interns.
If you would like further information on what is required to become a therapist in the state of California, please visit the website for the Board of Behavioral Sciences  http://www.bbs.ca.gov, CALPCC.org, or CAMFT.org, the website for California Associate of Marriage and Family Therapists.